Online tutoring
Take advantage of our current PROMOTION to make your children enjoy our academic service:
Per kid:
from $19.99 to $29.99 / session*
FYI: Academic learning disabilities
such as dysphasia (language impairment), memory disorder, dyslexia (reading disorder), dysorthographia (spelling disorder), poor information decoding, dyscalculia (arithmetic disorder), attention deficit disorder, etc., increase the challenge for tutoring & explain the associated rise in fees.
Schedule for an

ACADEMIC EVALUATION

which is the baseline of your children's tutoring plan. Click here to schedule.
Registration & administration fees:
$25

(one-time payment).
Tutoring sessions are also available for adults.
Per adult:
from $14.99 to $34.99 / session*
* A tutoring session lasts 30 minutes. If needed, sessions can be combined to get longer sessions, based on the Individual Tutoring Plan (ITP).
Taxes are not included in the prices above.
In-home tutoring
To better adapt and customize the academic needs of your children, here are the different packages that TeMeF offers:
Elementary level (from kindergarten to grade 6):
2 tutoring sessions per week: 3h/week. FYI: One (1) tutoring session lasts 1h30min.
8 sessions/month are provided.
Hourly rate :
$40/h per child.
Secondary & postsecondary levels: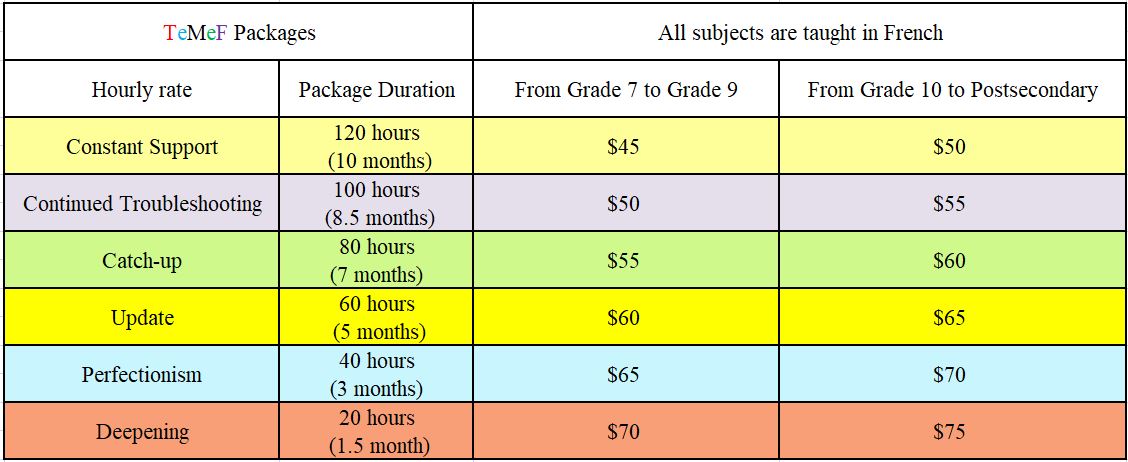 Constant support:
This is a permanent and personalized assistance given to your child throughout the entire the school year. It is payable up to 12 times.
Continued troubleshooting:
Il s'agit de maintenir un niveau académique soutenu et valorisant à long terme. This plan comes into force upon the release of the first notes and results of the school year. It is to maintain a high academic level for a long term. It is payable up to 10 times.
Catch-up:
This is an academic improvement that is necessary to improve the report card marks. This teaching also helps restore self-confidence to the student. This package is payable up to 8 times.
Updated:
This is to review and improve the working methods such as the organization of student assignments, agenda, and note taking of his lectures and their organization as well as time management. It is payable up to 6 times.
Perfectionism:
This is to bring clarification on specific points of a subject, a chapter or a lesson. This tutoring will be done to make few parts of the school program more comprehensible to the student. It is payable up to 4 times.
Deepening:
This is to raise the student's academic level by teaching him tricks and techniques for deepening the right knowledge he already has. The student will therefore be ahead of its current program by starting to understand the notions of the higher grade. This package also concerns those who would like to be assisted in the preparation of school or university projects on time. It is payable up to 2 times.
Assessment of your child at your place
Please click here for more details
SEMESTER EXAMS package

In order to finish the semester on a high note, the TeMeF team offers an intensive tutoring session. It is a 9 hour tutoring package and is totally oriented towards academic reviews of contents and chapters that may cause difficulties or even problems to students.

Receive the TeMeF tutor, at home or online, who will help your child to get into the EXAM MODE and will make the student validate, in a complete manner, all key points that have to be known to succeed the final tests. This will necessarily take into account an effective and rigorous review of the student's portfolio.

FINAL EXAMS package: $ 450
Intensive SUMMER package
In order to keep your children busy during their holidays, TeMeF offers you its Intense SUMMER package, mixing both an educational and entertaining atmosphere.
For younger children, it comes to:
- Discover the world in French with our fun and dynamic activities (virtual

interactions...).
- Strengthen the arithmetic, reading and writing rules.
- Have fun in French using several educational resources.
For older children, it comes to:

- Anticipate and prepare the beginning of the next school year.

- Reinforce the concepts studied in the previous school year.
TeMeF

All subjects taught exclusively in French Hourly rate

Kindergarten to grade 6

Grade 7 to grade 10

Grade 11 to 12/ Postsecondary

Length

Number of sessions

Intensive SUMMER package




24 hours




16

$55

$60

$65
It is payable in 2 or 3 times! Enjoy it !
ADULT package
Receive the TeMeF tutor at home who will help you perfect your FRENCH in all different areas: pronunciation, reading, writing, grammar, vocabulary, spelling and conjugation.

To better adapt and customize to your needs, here are the different packages that TeMeF offers:
| | | |
| --- | --- | --- |
| TeMeF package | Length | Hourly rate |
| Initiation | 6 months (72 hours) | $50 |
| Competence | 4.5 months (54 hours) | $55 |
| Refinement | 3 months (36 hours) | $60 |
| Perfectionism | 1.5 months (18 hours) | $65 |
The ADULT package is payable up to 3 times.
Online services are now available.
This is a session where you can discuss and get key information from the professional who is doing the job or has the career that your child would like to have.
Each cycle consists of three steps:
- The information taking from the family;
- The academic investigation;
- The presentation of the orientation plan.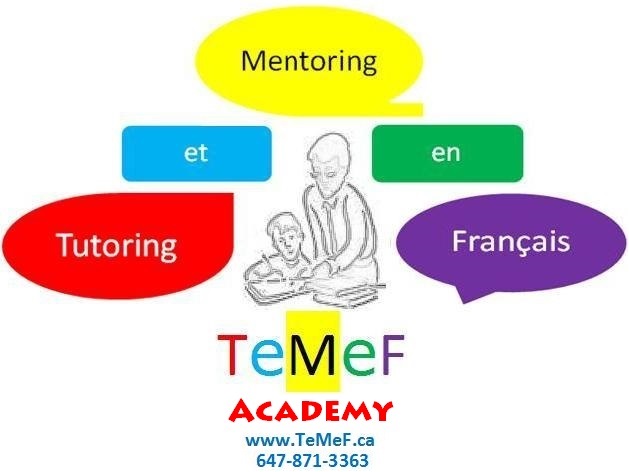 The babysitting service is available under T
e
M
e
F
Community.
For more details, please click HERE.

Copyright © 2010-2022. All Rights Reserved.